Your stories
First aid learning in action
Learning first aid can make all the difference in an emergency.
Find out how these inspiring children and young people have used their first aid skills to help others.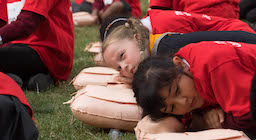 Six-year-old Sophie used her new first aid skills soon after learning them at Beavers club.
Do you have a lifesaving story to share? We're always looking for more stories about amazing children and young people who have put their first aid skills into action.

Whether you're a teacher, parent or young person, we'd love to hear from you. We'd also like to hear how you've used the First aid champions resource.
Email yourstory@redcross.org.uk with your name, telephone number and some brief details about what happened.